A lone kitten who was spotted on a cold rainy day, now plays hard but hugs even harder.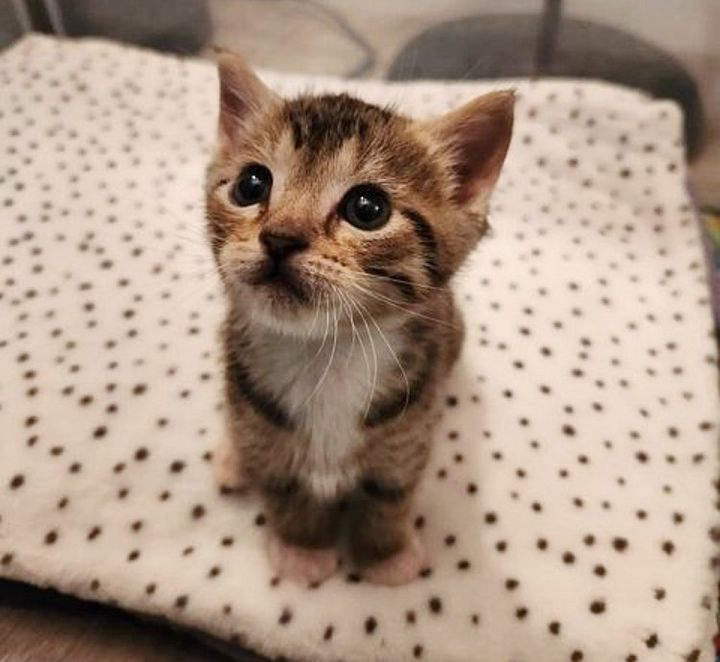 YuukiErin
It was a cold, rainy day when a Good Samaritan spotted a little tabby alone outside, soaked in rain water. The kitten was barely moving and desperately needed rescue.
While the finder was seeking help for the kitten, Natasha who had previously adopted from Wrenn Rescues, was able to lend a hand. The kitten was cold, so she warmed him up with the heater in her car, and he started to come back to life.
Wrenn Rescues immediately arranged for a foster home, so the kitten could be cared for around the clock. The tabby was too frail to eat from a bottle, but with a warm bed and supportive care, he perked up the next day.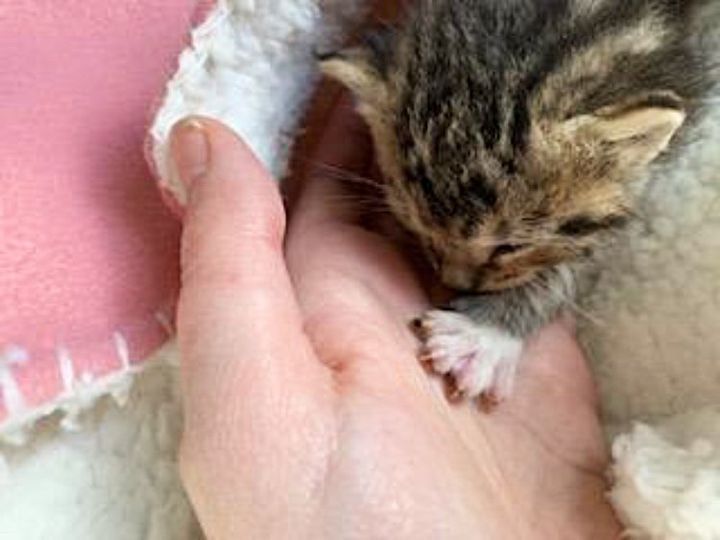 Erin
Erin the foster mom named the kitten Yuuki, and he was a little warrior. Despite being significantly small for his age, Yuuki was scrappy and had a lot of fight in him.
When his appetite returned, he started putting on weight, and his energy also increased. It was then Erin could breathe a sigh of relief.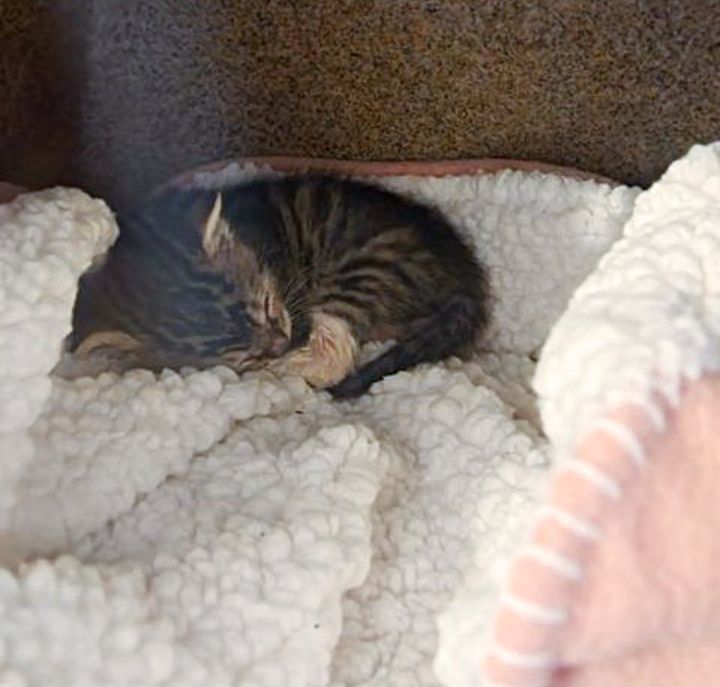 Erin
The kitten turned out to be quite the hugger. After each feeding, he spent plenty of time cuddling with his foster mom, wanting her constant attention. Erin gifted him a little lamb plushy, so he wouldn't be alone.
Yuuki needed a friend to snuggle and rough house with, and Erin knew just the perfect one to pair him up with.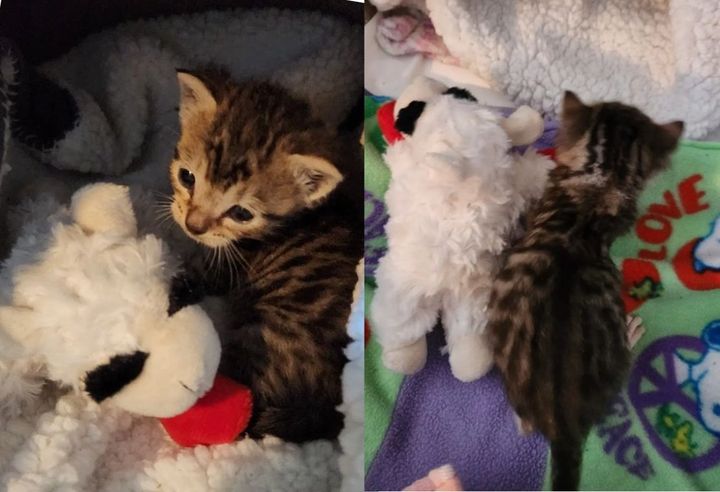 Yuuki was the size of his lamb plushyErin
A few days prior to Yuuki's arrival, an orphaned kitten, Hiro, was found in a car and brought into Erin's care. "He was also lonely with no siblings or mom, so we knew we would need to find him a buddy," Erin shared with Love Meow.
When the two were finally ready for a meet-and-greet, it was as though they had always been littermates. Hiro is about one week younger than Yuuki, but he was the bigger one.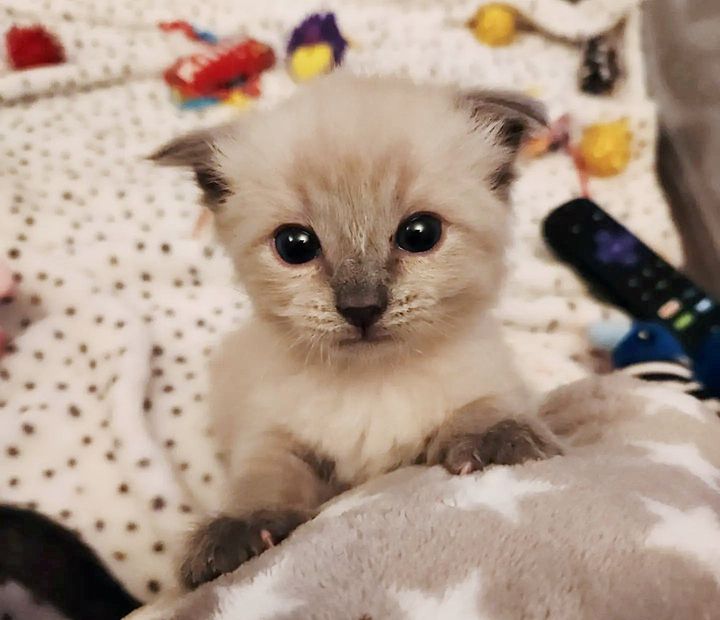 HiroErin
In no time, the two started playing, wrestling with each other, and Yuuki quickly claimed the title as the rambunctious brother.
"Yuuki has done a complete 180 from being a scared, underweight kitten to a chunky goofball. He is straight energy cuteness."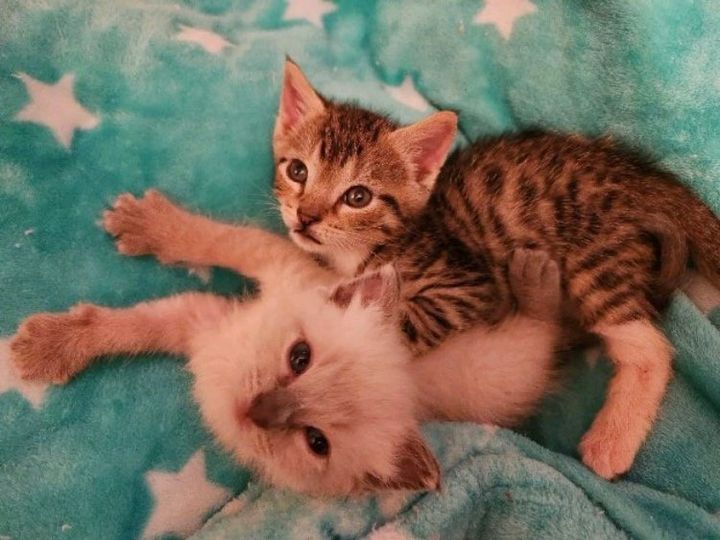 They hit it off right awayErin
The two brothers from different mothers are opposite in many ways but complement each other perfectly.
"Hiro is content to sit in your lap and purr loudly. Yuuki is crazy and wild. He loves to nibble toes, race around, and meow at you for snuggles," Erin shared.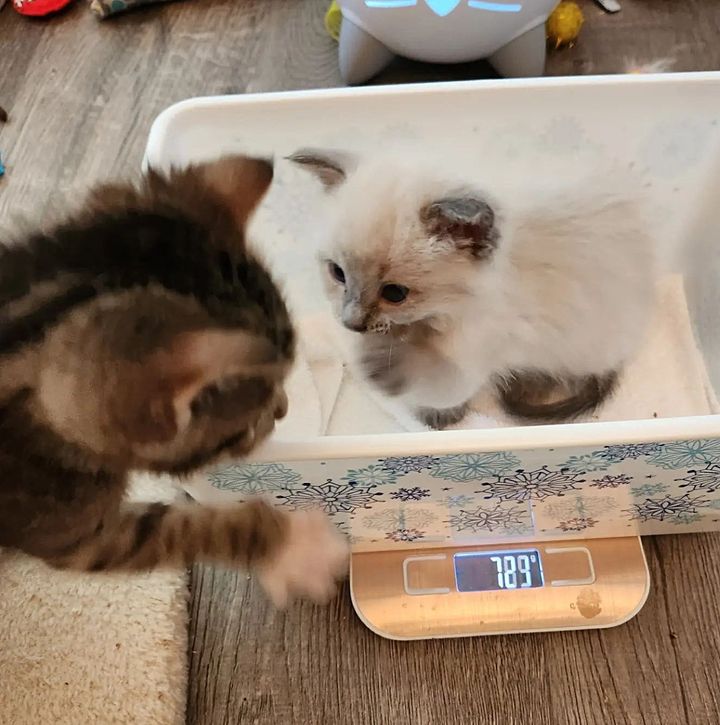 Erin
"They are both hilariously clumsy at this age, but they keep getting back up and charging forward."
When Yuuki started having his first solid food from a plate, Hiro insisted on doing the same. Despite being one week apart in age, they were weaning next to each other like two peas in a pod.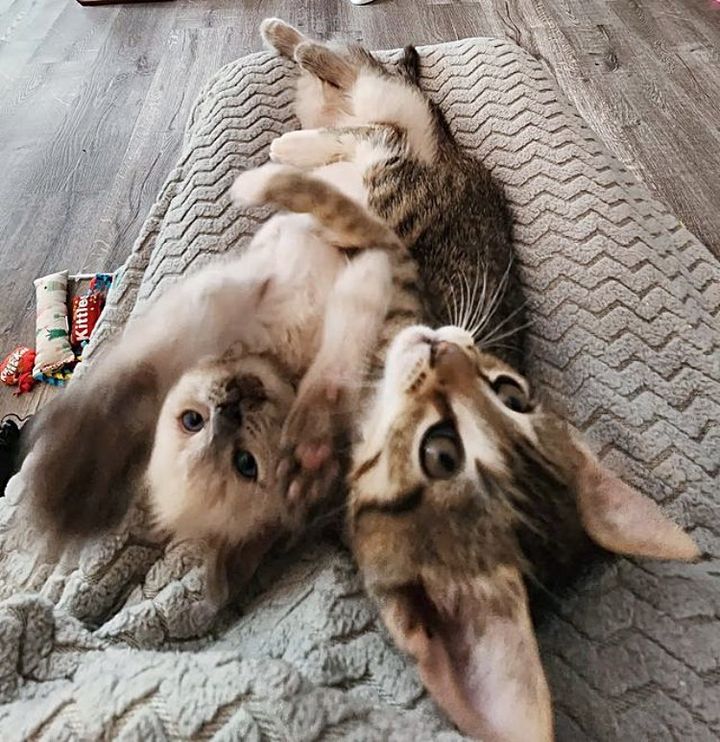 Erin
Yuuki is a little troublemaker constantly plotting his next antic. He's stealthy, fast, and always on the go. With his unbridled energy, he keeps his brother on his toes.
When he finally tires out, he will curl up comfortably on his foster mom's lap (often with Hiro) and fall fast asleep.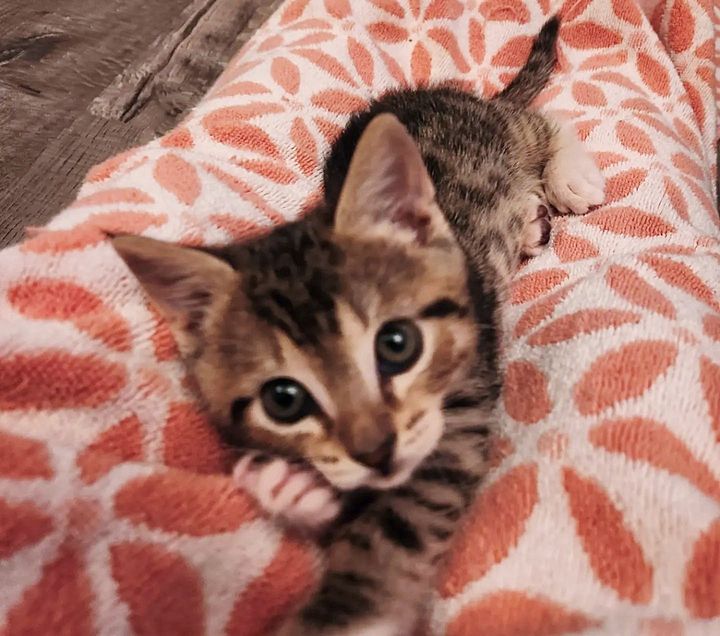 He enjoys lap time with his foster momErin
"Yuuki plays hard but naps even harder. This boy can sleep anywhere – upside down, loafing, shoulder surfing. When he is ready for a snooze, he goes all in."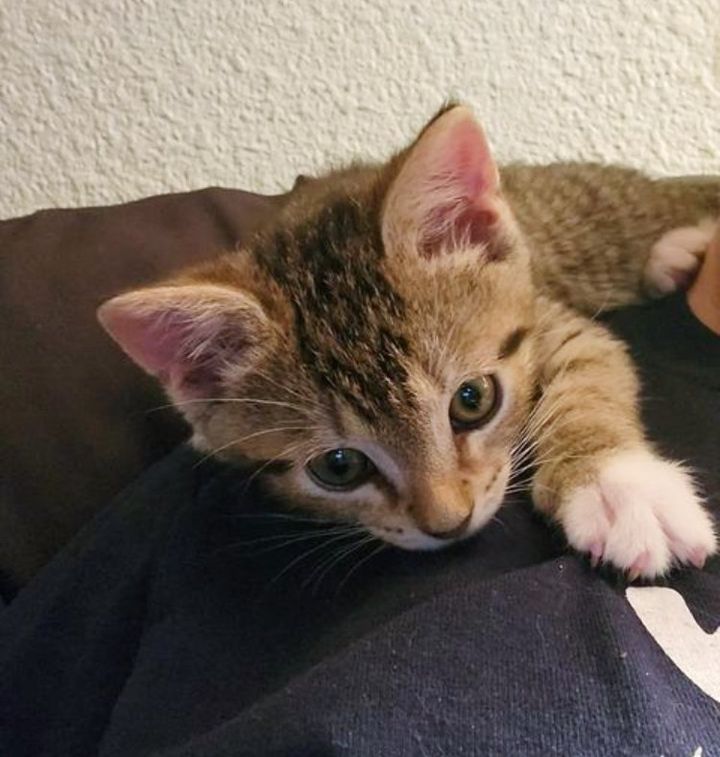 He likes to nap on shoulders tooErin
Yuuki used to be the same size as his lamb plushy, but now he's outgrown it completely. He's boisterous, mischievous, and silly, but he gives the best hugs in the house and loves sitting in a lap for naps.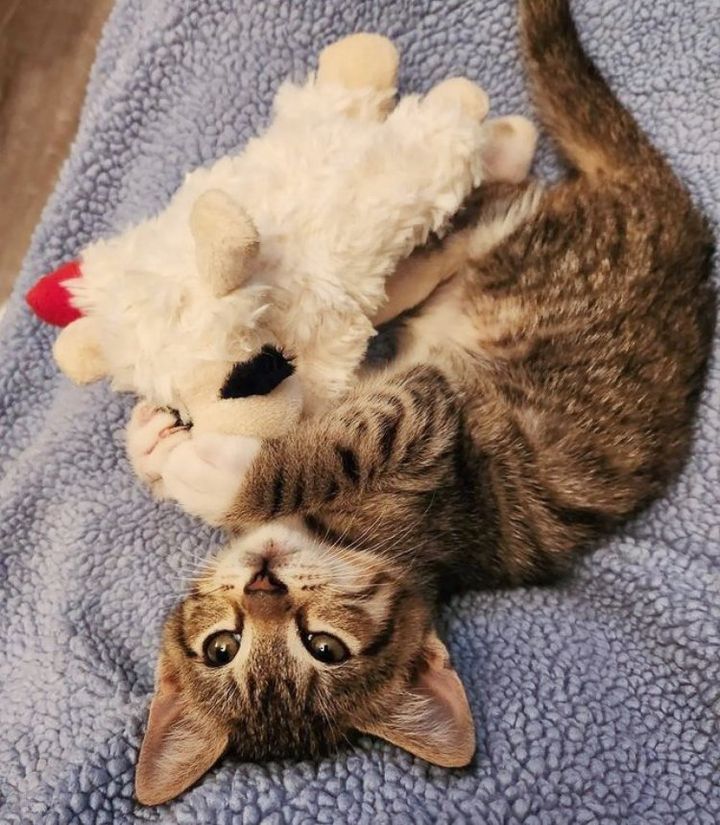 Yuuki has outgrown his lamb plushyErin
The two kittens are thriving side by side, and Yuuki couldn't be happier to have a wonderful family to cater to his every whim and a foster brother to grow up with.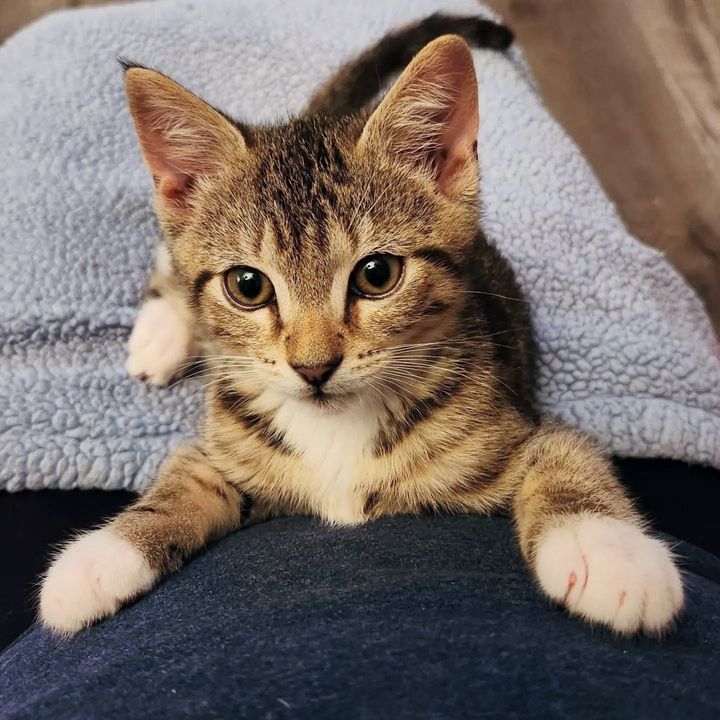 His favorite time is snuggle timeErin