Eggnog the kitten has never missed a single meal since the day he was rescued as a hungry orphaned baby.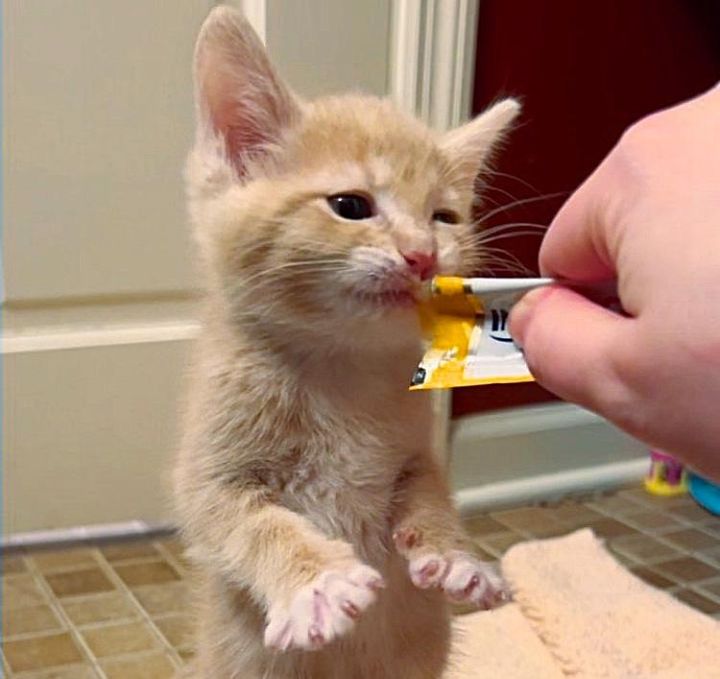 Eggnog the kittenEmilie @emiliexfosters
A dilute orange kitten ended up as an orphan separated from his cat mom due to an eviction. Emilie Rackovan, an animal rescuer based in Milwaukee, WI, was contacted about the lone kitten who had trouble eating from a bottle.
The kitten hadn't had any food for several days and desperately needed help from an experienced bottle feeder. Emilie got the message at 11PM one night, and 30 minutes later, she arrived to pick up the kitten.
"I wasn't sure what to expect, but I was still shocked by his appearance," Emilie shared with Love Meow.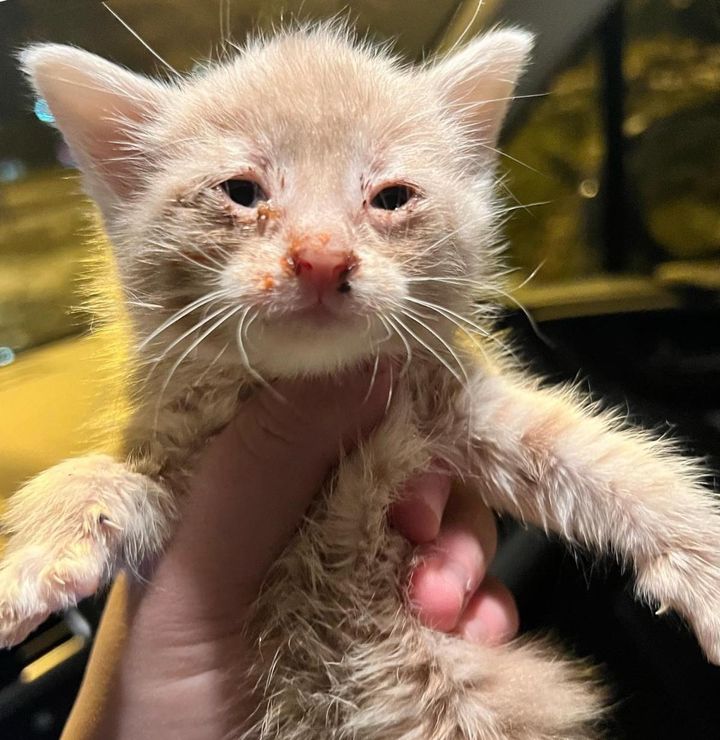 He was very hungry and in poor shape when he was rescuedEmilie @emiliexfosters
"He was cold, thin, unkempt, infested with fleas, and had thick discharge coming from his nose and eyes."
On their ride home, the kitten never had a quiet moment as he screamed at the top of his lungs, but everything changed when he successfully latched onto a bottle. He was so hungry that he gobbled down the kitten formula as if there was no tomorrow.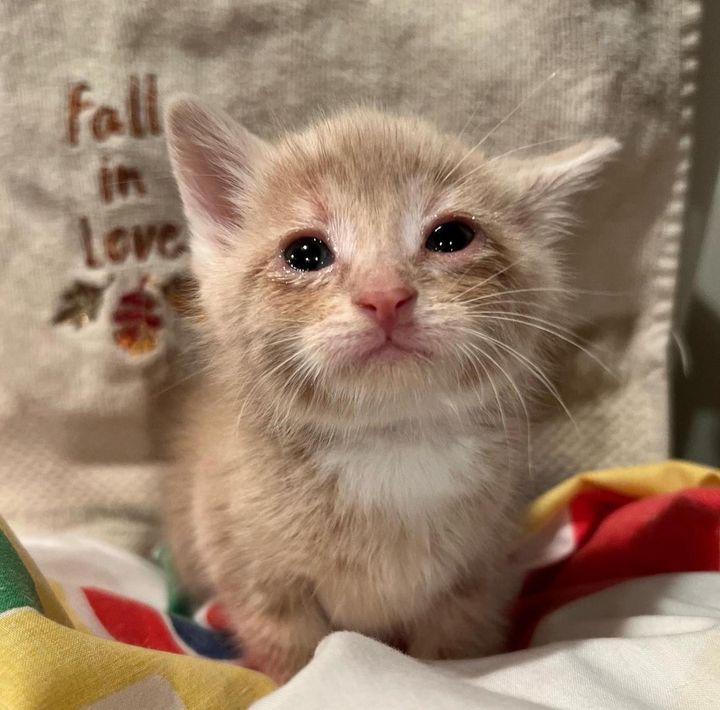 With good food and plenty of TLC, he started to healEmilie @emiliexfosters
The kitten named Eggnog was given a full belly and a warm, cozy place to nestle in. That's when he realized he was safe. "Since bringing him home, he hasn't missed a single meal."
Eggnog was all cleaned up and rid of all the pesky fleas. With proper medical care, his little body started to heal.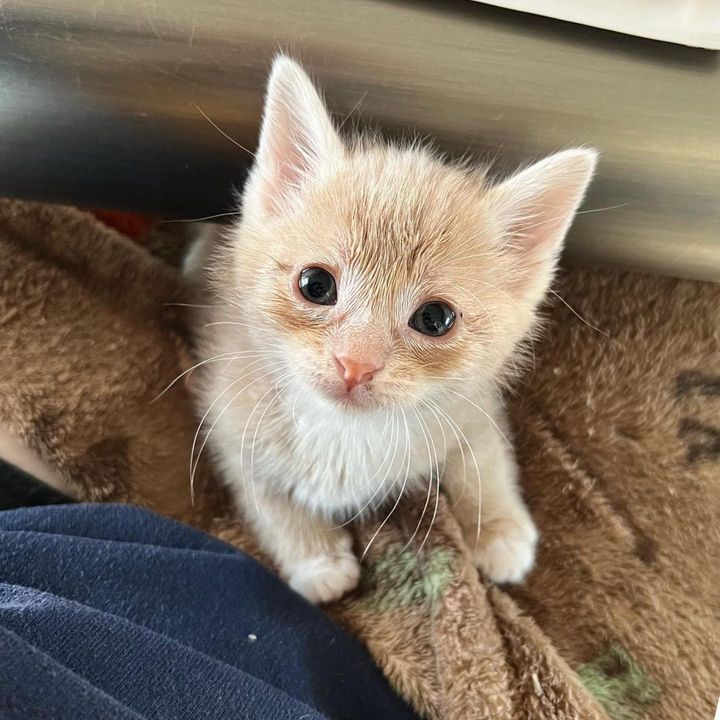 Eggnog sat on his foster mom's lap and decided to "help" her with her workEmilie @emiliexfosters
Eggnog could breathe much easier now that his upper respiratory infection was clearing up. He took on each feeding with so much vigor and never wasted a drop. His body started to fill out and his energy level soared.
After two weeks in foster care, Eggnog went on to hit several milestones, including eating independently from a dish. Despite being fully weaned, he insisted on having his daily formula as snacks.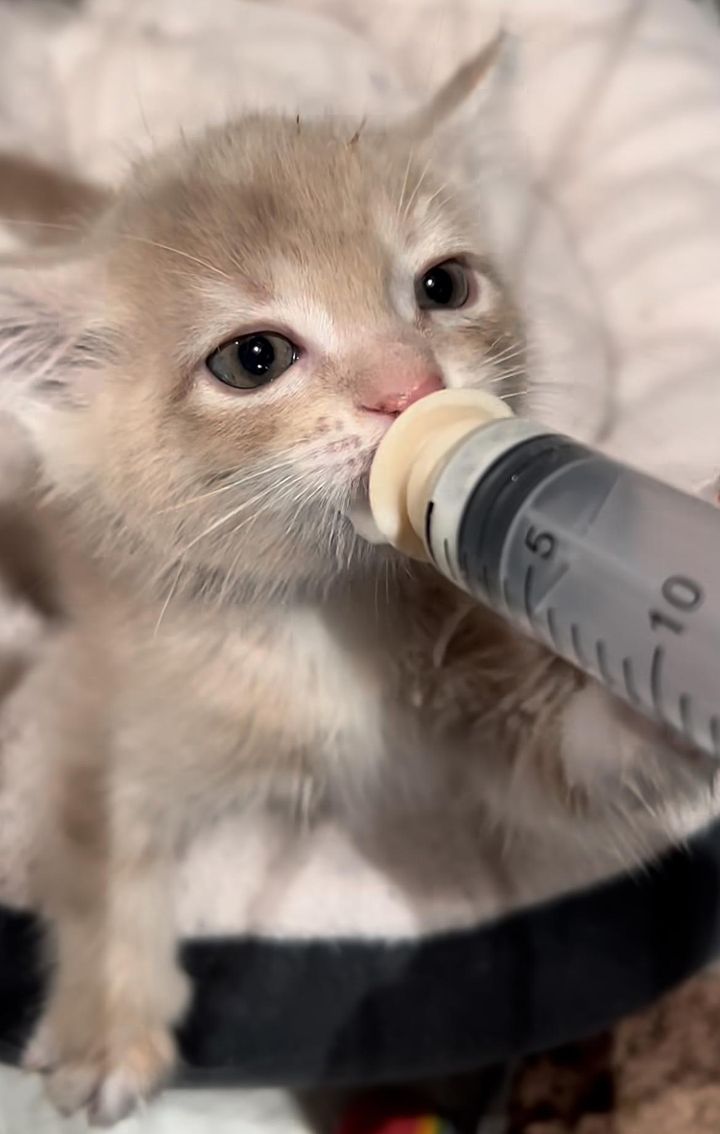 He loves food and has a voracious appetiteEmilie @emiliexfosters
"Eggnog would like everyone to know that even though he is fully weaned and has been for a little while, he's still very much a baby."
Watch Eggnog the kitten in this cute video:
As his personality emerged, Eggnog began to be on the lookout for a playmate. He was then introduced to the resident cats to help socialize him and teach him the ropes.
Eggnog will play and scamper around nonstop until he tires himself out. When Emilie enters the room with a snack in her hand, he will come running and stand up on his tiptoes, trying to reach it.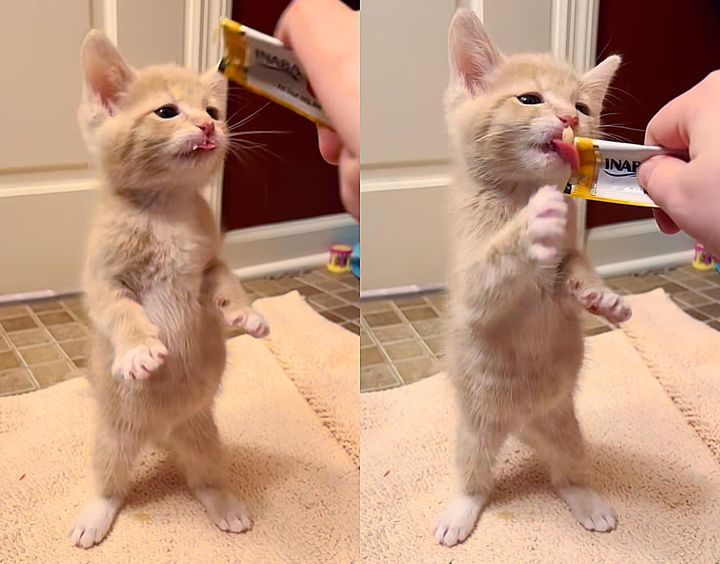 Eggnog is reaching for his favorite treat on his tiptoesEmilie @emiliexfosters
The sweet tabby has a voracious appetite and doesn't want to miss out on any delicious treats.
Eggnog has come a long way since he was rescued as an orphan. He showed an amazing will to live from day one and has never stopped loving life since.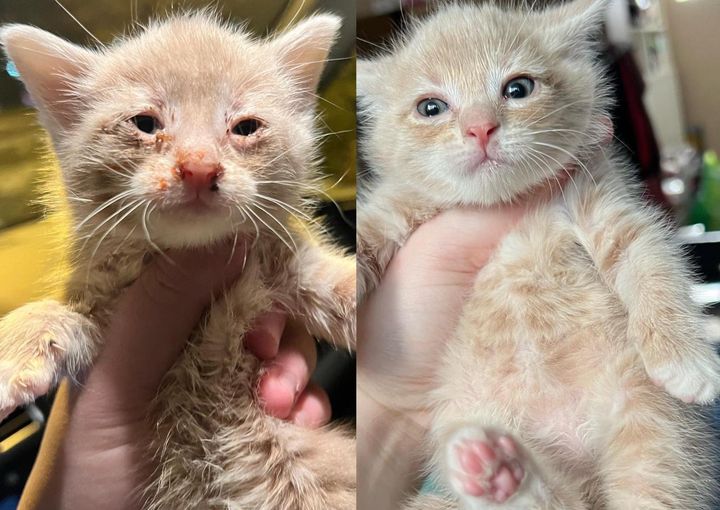 Then and nowEmilie @emiliexfosters
"He went from starving, weak, lethargic, and infested with fleas to chonky, healthy, and thriving," Emilie shared.
Now, he enjoys spending his day hanging out with his feline friends, supervising his people and creating all sorts of mischief along the way.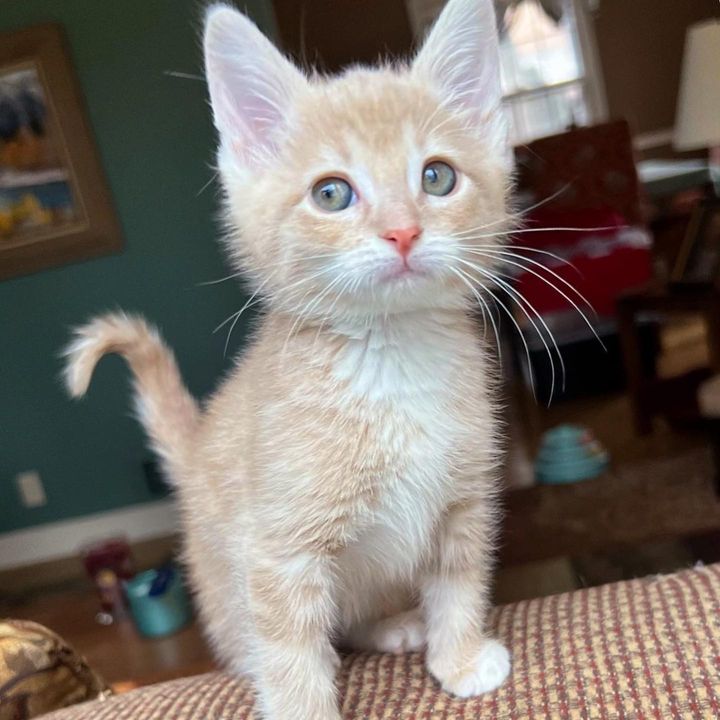 He has a big personality and so much to giveEmilie @emiliexfosters